SiteHelpDesk
A list of some of the many features and functions included with SiteHelpDesk

Sample Functions and Screenshots
View some of the SiteHelpDesk screens for various functions
USERS:
OPERATORS:

NEXT STEP
Try It!
Download and trial the full product for 30 days.

Features:
Administration of the system allows the setting the access and functions of the Operators, create Users, Sites, Departments etc. you decide how much detail to maintain.
| | |
| --- | --- |
| | Configurable Service Level Agreements and project work categories to cover support and other planned work schedules |
| | Add/ Edit HTML Links to turn SiteHelpDesk into your own department's Intranet support site |
| | Update the white board display with important notifications |
| | Create scripts of sequenced questions, answers and prompts for more information when creating new Calls |
| | Edit the Help info with your own specific instructions |
| | Configure the system to match your font, color schemes and turn on and off optional features. |
| | Configure optional auto email notification to Operators when assigned call plus a number of other optional features. |
| | Configure the system to use your own terminology in place of the default. e.g. change 'Calls' to 'Tickets' and all menus and pages change. |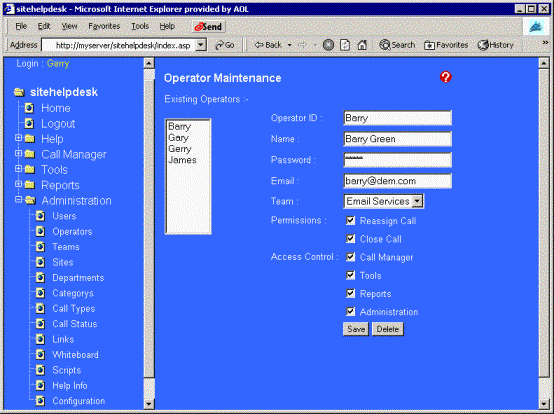 DOWNLOAD A FREE TRIAL COPY
Do not hesitate to try all the functionality, or to contact us if you need guidance or assistance.