SiteHelpDesk
A list of some of the many features and functions included with SiteHelpDesk

Sample Functions and Screenshots
View some of the SiteHelpDesk screens for various functions
USERS:
OPERATORS:

NEXT STEP
Try It!
Download and trial the full product for 30 days.

Features:
Add and Edit FAQ database, Use the web links to technical papers, third party support sites and internal documentation. These are set up in Administration to turn SiteHelpDesk into your own department's Intranet support site.
There is also a Internal Staff Contacts list that may be linked to directly from your Intranet with optional links to their photographs.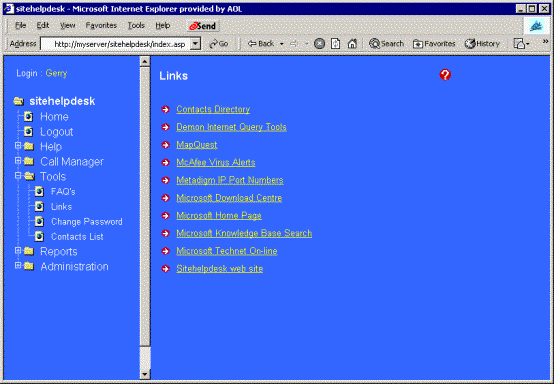 DOWNLOAD A FREE TRIAL COPY
Do not hesitate to try all the functionality, or to contact us if you need guidance or assistance.