SiteHelpDesk
A list of some of the many features and functions included with SiteHelpDesk

Sample Functions and Screenshots
View some of the SiteHelpDesk screens for various functions
USERS:
OPERATORS:

NEXT STEP
Try It!
Download and trial the full product for 30 days.

Features:

Menu logically follows the life of the call.

Call Queue logs are those waiting to be assigned to an Operator. Note there is an option to 'auto assign' to operators based on the Call Type and also to send an email notification to an Operator when a call has been assigned to them.

Check email displays calls sent via email - integrates with MS Exchange server to generate a call from an email sent to a specified mail box.

My Open Calls displays all calls not yet closed with traffic light flags to highlight those that have exceeded times set for the Call Category (SLA).

Through out the system - displays can be sorted by column and drill down is available for more detail and to work on a call which may be copied and paste into Excel for further manipulation.

Extensive knowledge base and call related searches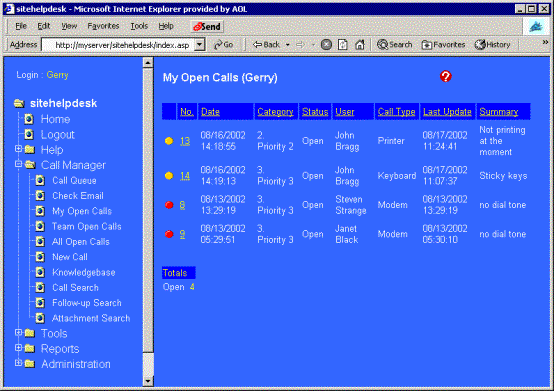 DOWNLOAD A FREE TRIAL COPY
Do not hesitate to try all the functionality, or to contact us if you need guidance or assistance.